Oakville dentist
Are you looking for a dentist in Oakville?
Our Oakville dental practice is conveniently located just south of the QEW at the intersection of Speers Road and Bronte Road in the heart of Bronte village in Oakville. We serve Oakville and Burlington communities. For the convenience and to make your visit pleasant and relaxing, we offer HD TV in our operatories (you can watch your favorite movies or your little ones can watch their favorite cartoons), we also offer complimentary fresh coffee and bottled water for our clients. We have installed wireless headphone with large variety of music. Best of all, we strive to create a pleasant and soothing atmosphere for our patients at every visit. Learn more about our Oakville dental office.
Client-centered care
The staff at Bronte Road Family Dental are committed to meet the needs and wants of our clients from the minute they step foot into our office. Our staff are dedicated friendly individuals who are motivated to ensure that our clients receive a pleasant experience and a beautiful smile during each and every visit to us. Learn more about us.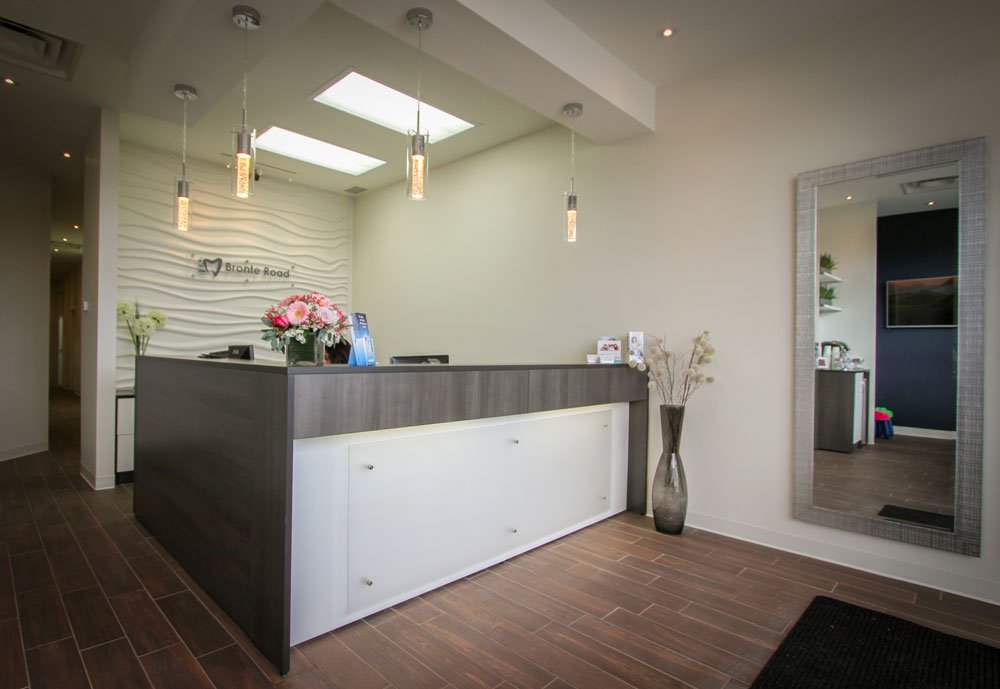 Family dentistry
Our goal is to make the dental visit filled with fun. We provide play-based joyful dentistry to your little ones. We provide different approach introducing your kid to the office along side with games, play time and dental education. They will be excited to go to the Dentist! Check out our family-centered approach.
Sedation Dentistry
We understand that visiting the dentist may not be an experience that you look forward to and that is why we strive to create a soothing atmosphere for our patients. With this in mind, we developed a sensitive and caring approach along side with sedation options that will ensure that your visit to us is pleasant and fun. Read more about our sedation dentistry services.
Smile enhancement dentistry
At Bronte Road Family Dental, we offer treatment options to help you achieve a desired beautiful smile. Our cosmetic dental treatments include veneers, bonding, crowns and bridges and zoom whitening.