Oakville Dentist
Seeking an Oakville dentist you can rely on, trust, and go to for comprehensive, full-service preventive care, cosmetic dentistry, and restorative dentistry? Look no further than Bronte Road Family Dental – Oakville dental practice on Speers Road and Bronte Road.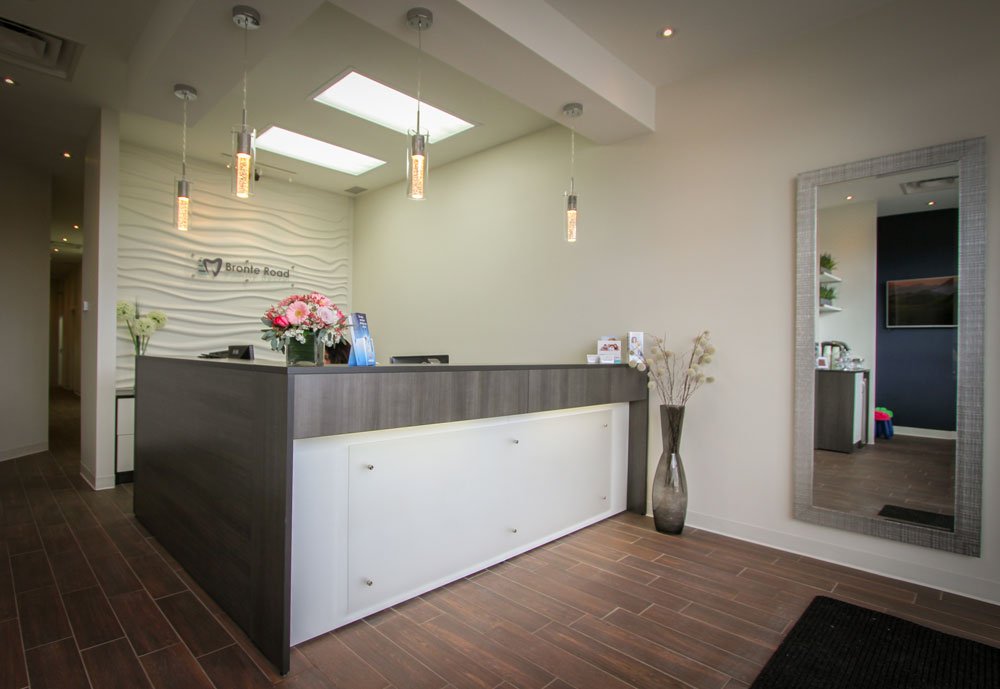 7 Benefits of Regular Visits to Your Oakville Dentist
Taking care of your teeth require a daily routine consisting of brushing and flossing. Visiting your Oakville dentist on a regular basis will insure that your teeth and your oral health are in a good shape. During your first visit to your Oakville dental office, the dentist will thoroughly examine your teeth and gums.  
Also, a professional cleaning will be carried out. This would help preventing any gum issues or gum bleeding.
When you visit your Oakville dentist every six months, you will experience the following advantages:
Examination of your oral conditions and teeth. This involves check-up to your teeth, gums, soft tissues and any oral conditions in the mouth

Teeth cleaning and removal of the tartar build-up. This helps prevent damage to the gums and prevent many gum issues that may occur due to the microbial build-up around the teeth.

Gum examination that involves examination of gum related issues like gum recession, gum inflammation, gum bleeding and other problems.

Cavities prevention which includes diet advice, fluoride application, amalgam-free resin fillings.

An oral cancer examination.

Restore broken teeth including chipped teeth and missing teeth

Teeth whitening using systems like zoom teeth whitening and take-home whitening trays.

Emergency dental services for infected teeth, gum infection, toothaches and other dental conditions that require immediate attention.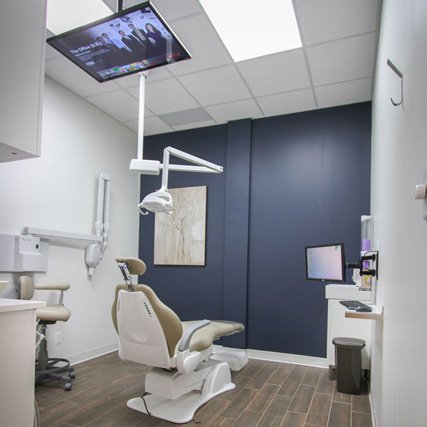 Multiple Oral Health Services Provided by Your Oakville Dentist
Bronte Road Family Dentistry offers the following services to its Oakville patients looking for a dental services in Oakville:
Family Dental Care: Part of our commitment to families, we offer dental services focused on prevention. We offer dental services like teeth cleanings and dietary dental advice. We also offer advanced services like dental implants and crowns to restore damaged, discolored or infected teeth. We focus on education as we believe that knowledge is power and we like to empower our clients.
Cosmetic Dentistry: Part of our Oakville dental office services are cosmetic services. These elective procedures can fix many issues including teeth discoloration, broken teeth, missing teeth. These services include dental veneers, dental crowns, dental bridges, teeth whitening and dental bonding.
Restorative Dentistry: We only offer mercury-free dental resin filling to restore cavities and chipped teeth. Our goal is to restore the functionality and the esthetics of any bite which may result in a beautiful smile and improved overall health.
Dental insurance and financial consideration at your Oakville dentist office
At Bronte Road Family Dental, we accept most dental insurances. We offer assignment of benefits which means that we can send the claim on your behalf. You don't have to file any claims or wait for the insurance to process the claim. We also offer financing options to make the dental treatment more affordable. Also, we offer senior and students discounts. We believe that dental treatment should be affordable to everyone.
We make it as easy for our patients to afford the dental care they want and need. We accept a wide range of dental insurance plans, and also offer financing options and various payments options to help you budget for your preventive care, cosmetic dentistry, or restorative dentistry procedures.
Our Oakville Dental office location
Bronte Road Family Dental located in Bronte, Oakville. At the intersection of Bronte Road and Speers Road.
Our address is
2544 Speers Road, Unit 7,
Oakville, Ontario
L6L 5W8.
Our office hours
Please call the office to book your appointment or use the online form. Our office doen't accept walk-ins. But we will be able to fit you in the schedule in the same day for dental emergencies. Our Oakville office hours:
Monday 9 a.m. – 5 p.m.

Tuesday 10 a.m. – 8 p.m.

Wednesday 10 a.m. – 9 p.m.

Thursday Closed

Friday – 9 a.m. – 5 p.m.

Saturday – 9 a.m. – 3 p.m.
Parking is available and free of charge.
Oakville: The Home to Bronte Road Family Dental
Oakville is one of the most likable places to live in the Great Toronto Area. This beautiful town is known for its amazing family-oriented neighborhoods, its beautiful lakefronts, restaurants and art galleries and events.
Oakville is known for many events like the infamous Downtown Oakville Jazz Festival, Waterfront Festival, For the Love of the Arts Festival, Midnight Madness and Oakville Family Ribfest.
Oakville is home for more than 200,000 people and is the most growing town in the halton region due to geographical proximity to Toronto, business infrastructure, and safety and community sense.
Whether you have recently made the right decision and moved to Oakville, whether your working hours in Oakville, or whether you happily call Oakville your "home", the Oakville dentist is always at your service is Dr. Max and his team. At Bronte Road Family Dental, our promise is to provide quality dental care in a friendly and professional environment.
Book your appointment today by using our online easy booking form or call (905) 465-0026