Mercury-free fillings
We are latex and mercury free practice. We believe that Amalgam "metallic fillings" fillings are not pleasing to the eye. These fillings are considered strong restorations but with today's Nano technology, dental tooth-colored restorative materials achieve comparable compressive strength values.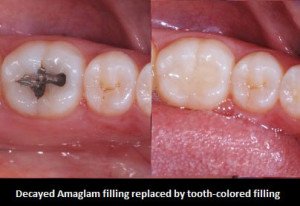 Disadvantage of metal fillings:
Although metal "mercury" fillings are considered durable, there are some drawbacks. The fillings have poor esthetic qualities, long term corrosion that may result in staining the teeth and the gums and possible marginal breakage. Lastly, The majority of metal fillings are not bonded to the tooth.
Advantages of tooth-colored restorations:
We use tooth-colored restorations. These restorations have superior mechanical qualities, very pleasing esthetic results. These restorations are bonded to the tooth using the latest generation of bonding agents which helps in achieving retentive less sensitive restorations.
The result is a beautiful smile.
Nano-technology in tooth colored-restoration
At Bronte Road Family Dental, all tooth-colored composite restoration are made using the lastest Nano technology resulting in highly stain-resistant surfaces and outstanding strength.  These restorations come in different shades and fluorescence resulting in high esthetic tooth restorations.
To discuss your treatment options including fillings and tooth colored restorations, please call us Oakville dental office location at (905) 465 0026