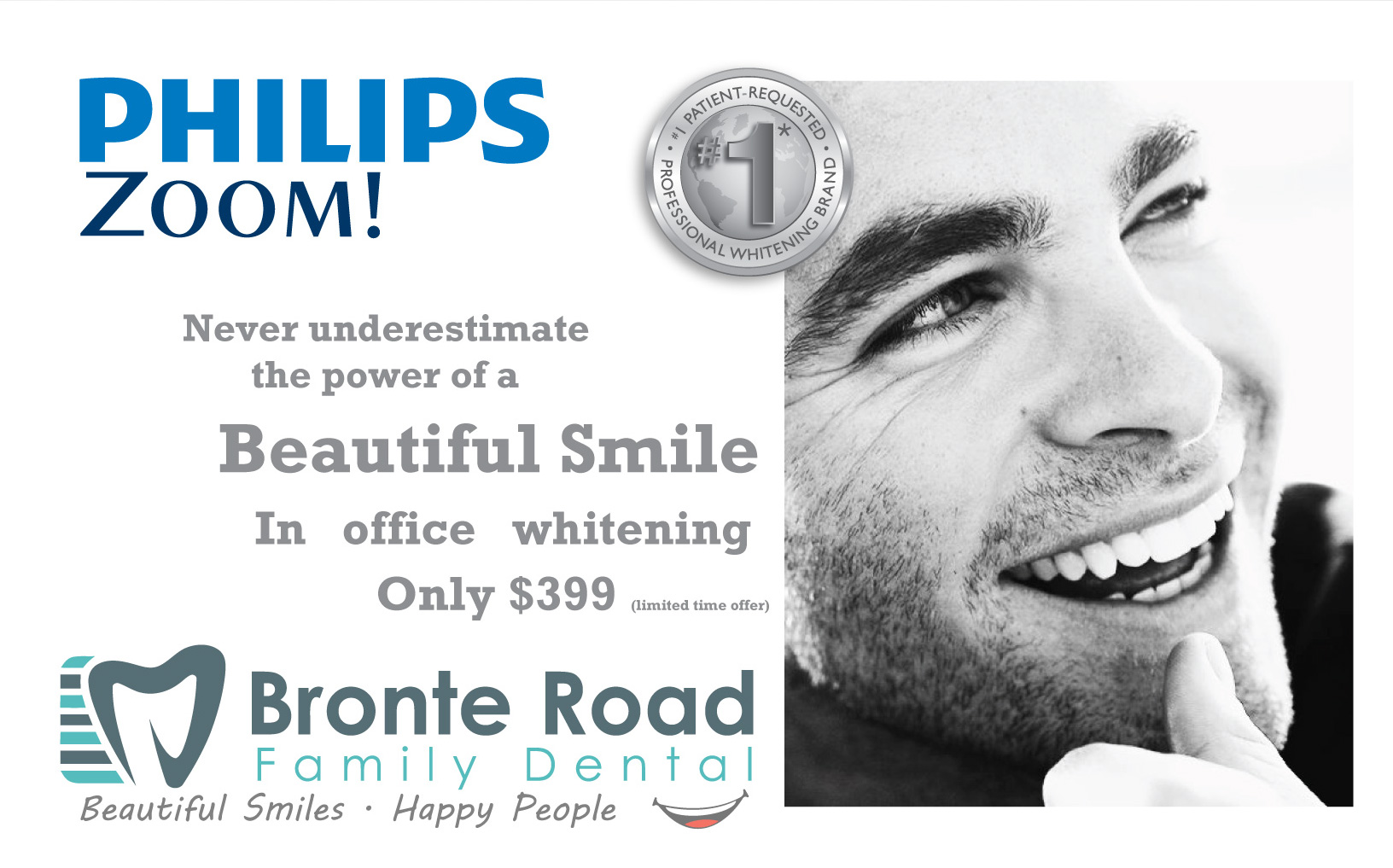 Teeth Whitening FAQ for Patients in Oakville
Your smile goes a long way in making a first impression, which is why so many people in Oakville actively seek out the best teeth whitening products. No matter how clean your teeth are, most people's teeth fall into any range of light gray to yellow colors. For the brilliant smile you are after, Zoom teeth whitening gel can give you the ultimate smile that can dazzle.
Q: What is teeth whiting?
A: Whitening your teeth can make a better first impression, give you more confidence and can make you look and feel younger.
Teeth whitening procedures can take upwards of an hour or 2 in a professional setting, and many home kits can be used in hours for a vast improvement. There are many ways and methods in which you can whiten your teeth, and some are definitely more popular than others.
Q: What whitening can do for me?
A:Whitening your teeth to improve your confidence and make a better first impression is a common goal for many people. One of the best options on the market today is the revolutionary teeth whitening product Zoom! This proprietary blend of teeth whitening technology can change the shade of your teeth over eight shades in little more than an hour.
Q: What causes tooth discoloring?
A: Everyday items like medication, red wine, sodas and coffee can stain and discolor your teeth. Regular usage and smoking cigarettes or cigars can also discolor and stain your front teeth. Aging and the natural processes behind it also contribute to the discoloration of your teeth.
Candies and foods with coloring in them can also lead to the staining of your teeth.
Q: Are teeth whitening products safe?
A: Over the counter products and office whiteners can vary in how they whiten your teeth as well as range in effectiveness. When you want the best teeth whitening product, look for those that have been evaluated or approved by The Canadian Dental Association. Taking a look for the seal of approval is a quick and easy way to check that the teeth whitening product you are looking at is proven and safe.
Q: How do teeth whitening products work?
A: Most cream and pastes utilize whitening agents to cleanse through the use of peroxide. Either by ceramide peroxide or hydrogen peroxide in varying levels of concentration lightens your teeth and your enamel by passing oxygen through the gels to whiten your teeth. This bleaching process can be sped up through emulsions and additional propagators like teeth whitening lamps.
Q: Will teeth whitening products lead to increased sensitivity?
A: One of the more commonly known side effects from teeth whitening treatments, this sensitivity can be troublesome at first but usually goes away. Many of the latest products in the teeth whitening industry now include desensitizing ingredients like potassium nitrate and fluoride. These elements help strength and reduce sensitivity issues that may arise from over the counter teeth cleaning products.
Q: How do I use them?
A: Proper application of your teeth whitening product goes a long way in whitening your teeth. Teeth bleaching products that are used at home should be include instructions that should be followed. When you need a more effective manner of cleaning and bleaching your teeth, head to a professional dentist office for a superior method of teeth whitening.
To book your whitening appointment today, Call Bronte Road Family dental at 9054650026